Happy Spring, everyone!! Yes, it seems to finally be here. I figured a good place to start with our brand new website would be a quick update with some pictures of how things are looking around the orchards right now.
The crazy weather the last couple of weeks shut down all the plants/trees' progress. We were worried that we were going to get a lot of damage because twenty degrees is way too cold for trees that are budding out! But overall, it looks like we came through it all pretty well. You can see from the picture above, that it's looking like we still have a pretty nice peach crop! The bad news is some damage on our earliest cherries, our early Japanese plums, and our early Asian pears. Basically these are the things that bloom first and had lost their hardiness by the time that cold snap came around. We're seeing very little or no damage on most varieties that still had tightly closed and protected buds.
The blueberry bushes are getting close!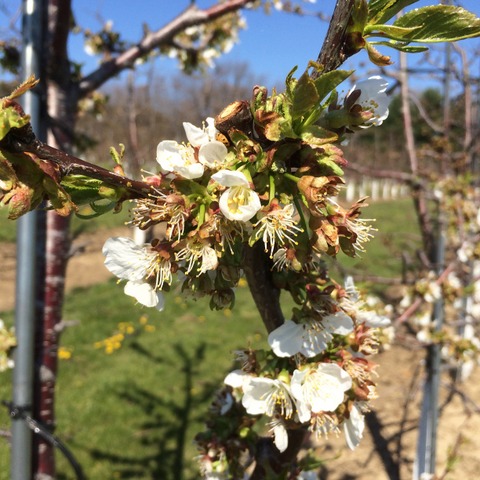 Chelan cherries.  See the crispy blossoms?  Those were damaged by the cold and won't have fruit.  But we still have a partial crop!

The Castleton prune plums look good!

The apple trees are starting to get going now, too.

One final note (shameless plug) for now.  Some of you already know that we're building a hard cidery/winery on the farm. But for those who don't…we're calling it Bent Ladder Cider and Wine.  We're planning to be open in July, hopefully near the beginning of the month.  We'll be starting with a selection of our own hard ciders, and we'll be adding our wine in when it gets finished later in the year or next year.  We will have a small tasting room along with a fair amount of outdoor seating for when the weather is nice.  Anyway, I've started up a web page:  bentladder.com.  If you're interested, you can follow our progress over there and follow my brother Matt (who is the head cider/wine maker) on the usual social media.
That's it for now.  I'll be back soon with another update.  Thanks for reading!!