Iris
A lot of you folks have probably enjoyed seeing Peg's iris collection blooming on the hill next to the market, either this year or in the past.  Those iris made their way up from Tennessee when Dale and Peg moved back here, and they've been doing great.  Iris rhizomes will grow to the point of becoming crowded every few years.  When they get to that point, you dig them up after bloom, divide them and replant.  This is one of those years for us, so one of my latest projects (with help from Peg and my fiancee, Amanda) has been to collect some of each variety we have and get them divided.  We'll get them replanted, but we always have more than we need, so we made a display in the store.  For the next few days, we'll have rhizomes for fourteen of the varieties for sale.
Iris are pretty easy to care for.  Don't worry…if you've never had iris before, we'll give you a brief instruction sheet.  The biggest thing really is just to make sure you divide them when they get crowded.  Otherwise they can stop blooming abundantly.  Over a few years, one piece of rhizome will generally turn into many plants after you split it up.  We've got fourteen varieties available, but here are a few of my favorites: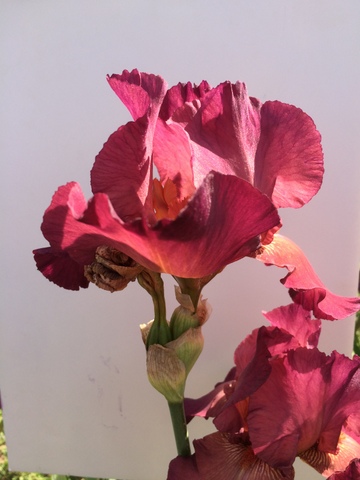 Crop Update
Things are really coming along now.  The final fruit set on the cherries was lighter than I expected, I think probably due to the cold spell we had during their bloom.  We'll still have some cherries, but we had more damage than it originally looked like.  Other than that, things look really good right now.
Strawberry u-pick is going strong.  We were actually picked out and had to close the field this past Sunday for the day.  Please either call us (330-925-4152) or check one of our online platforms if you're planning to come out to pick, just in case.  I'm trying really hard to get our What's Ripe page, facebook, twitter, and the email newsletter sent out when we have to close the fields for a day.  I hate when people come all the way out to us, and we have to turn them down.  But the demand this year has been amazing, so thank you all for coming out!!!
We picked the first red raspberries of the year today.  U-pick will open soon.  I'll update the What's Ripe page as soon as we open it.  And we should have the first blueberries in the store this weekend.  U-pick on the blueberries won't start for awhile still, though…we have to get enough ripe first.
Save
Save