Hello everyone!
This newsletter went out waaaaaay later than I wanted it to, but with the warm weather and June approaching, the pace is picking up here at the orchard!
Abbie and I stayed home for Mother's Day. We had the best time making bright blue playdoh, coloring while listening to music, and eating lunch in front of the TV together. I love these moments with her and am grateful when we have this special time. Being a mother has been one of the most challenging, exhausting, rewarding and wonderful experience of my life. To all of you out there who are moms in all different capacities–biological or not–we send you love from the orchard. And to all of you who have lost your mom, we send you a little extra.
Happy (Very) Belated Mother's Day.
I can't believe we are a week away from June! We are gearing up here and getting ready for the hot weather and the increased traffic in our store.
The ice cream is in and Abbie is very excited! It's not every toddler who has access to a 12 flavor freezer of ice cream! I think it's harder for me to stay away from eating it all the time! 🙂 So far, my favorite flavor is Grandma's Banana Cream Pie. It's amazing.
We are hoping to open the U-Pick in early June, but still have no idea how the crop will develop at this time. Just keep checking the website if you are curious!
We hope to see you all out here soon! This is the best time at the orchard.
Take Care,
Amanda, Chris & Abbie
Hey Baby!
Well, we know some of the fruit survived the frost.  Meet a baby peach!  We have been fighting against the frost up until a few days ago.  I hope we will be in the clear soon.  It's stressful!  It's hopeful to see little guys like this one out in the orchard!  It's funny how our trees almost feel like creatures we are caring for and trying to keep alive. 
Dairy Dreams
Some new products for our store! Personally, I am a cheese curd fiend, perhaps because my mother is from Wisconsin, but they are delicious!  I do know they are extra delicious when paired with the Troyer's Trail Bologna!
Working Hard or Hardly Working?
This guy. I have said it before on here, but honestly, it can not be said enough. Chris is one of the hardest working people I know. When the work needs to get done, Chris is out there doing it. When we don't have the staff, we're are all out there picking asparagus. It's hard work, but our backs are strong and our customers are happy.
Asparagus
The warm weather we're FINALLY getting is really waking the asparagus up. It's fresh cut and in the market daily now!!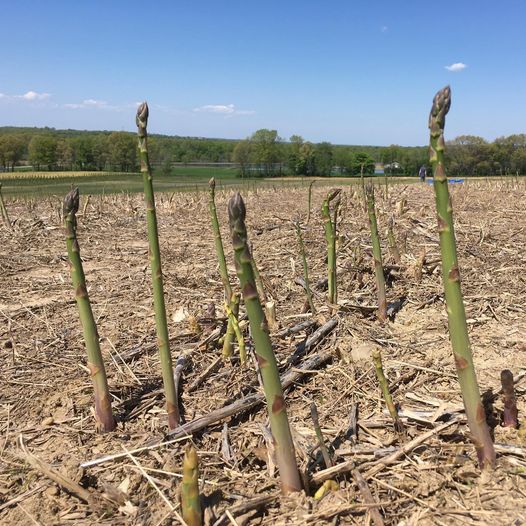 Cooper's Corner
"Happiness is a warm puppy."
-Charles Shultz
This is about how all of us feel when we get home from work these days.  But we have these two cuties to cuddle with and we love it.  Cooper has been getting into non-puppy things lately (like bright blue playdoh), which is not my favorite part of puppyhood, but we still love him.