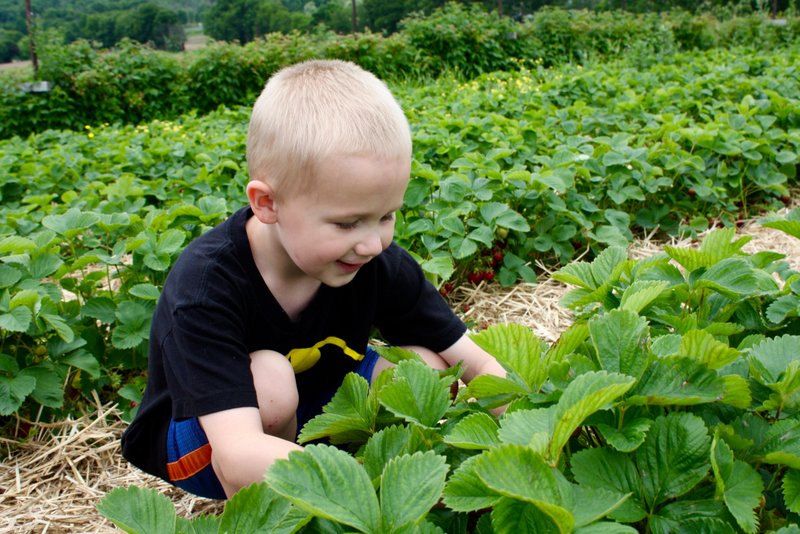 What: A five day long half-day summer camp
When: From 9am – Noon, Tuesday through Saturday. The first session is from June 18th – 22nd.  There are still several spots available!
The second session is from June 25th – 29th.  This session is full.
Who can participate: 4-6 year old children
Where: Rittman Orchards and Farm Market
How much: $150 for one child or $140 per sibling
Details:
In today's hectic world, it seems like folks are becoming more and more removed from where their food comes from. At our camp, young children will learn how food gets from the farm to their house.
We are offering a hands-on learning opportunity with experienced elementary school teachers onsite at our orchard. Over the course of five days, your child will learn how we plant, care for and harvest fruit at our orchard.
Since it will be berry season, three of the days will focus on strawberries, blueberries, and raspberries. The first part each "berry day" we will gather to read a story and learn facts about the berry we intend to pick before heading out to the berry patch. After returning from the fields with our fresh fruit, we will enjoy a snack together and complete a craft to take home.
If you have any questions, please email amanda@rittmanorchards.com.
Payment is due upon registration, but if you need to cancel your child's enrollment, we will issue full refunds before May 25th. After that date, a $50 cancellation fee will be charged.
Register online here.
Amanda
Hi! I am a new mommy and a "retired" teacher. I taught preschool-kindergarten for 15 years at various schools in Ohio and Washington, DC. I earned my Masters in Elementary Education at Quinnipiac University in 2004. After marrying Chris Vodraska in 2017, I decided to join the family business and work at Rittman Orchards. It was hard to leave the classroom, but I believe the orchard is an amazing place to educate young children about food, agriculture, nutrition and farming. In addition to hosting apple picking school tours in the fall, I'm starting a summer program to bring hands-on experiences to children onsite at our orchard. I am so excited to provide this unique learning opportunity at our farm.
Megan
Hi! I have been teaching preschool for 4 years at a private school in Cleveland. I have thoroughly enjoyed my time with young children and especially teaching them about nature and agriculture. I earned my degree in Early Childhood Education from Kent State University in 2014. I am a certified Environmental Educator of Ohio. I taught environmental education in Cuyahoga Valley National Park working with children from three years old through eighth grade. Amanda Vodraska and I have co-taught in the past where we learned we have a shared passion for teaching children about nature and farming. This will be an amazing experience to support your children as we dive into some fun activities at Rittman Orchards!