Last updated: 08/17/2017
Fruits and Vegetables Currently Available in the Market
Yellow Peaches – Coralstar
White Peaches – Blushingstar

Nectarines – Temporarily out. Fantasia should be ripe by tomorrow.
Plums – Castleton
Pears – Sunrise (European) and Kosui (Asian)
Melons: Musk, Ananas, Galia, Charentais, Asian, Honeydew
Apples (click on the variety name for more info):
Dandee Red
Redfree
Zestar!
Sansa
St. Edmunds Pippin
Ginger Gold
Burgundy
Summer Rambo
Sweet Corn: Bicolor and White
Beans: Green, Romano
Summer Squash, Zucchini, Cabbage, Kale, Cauliflower
Beets, Garlic, Eggplant, Cucumbers, Pickles
Tomatoes: Standard Red, Yellow, Heirloom, Paste
Peppers: Green and Purple Bell, Hungarian Semi-Hot Blocky, Sweet Banana
U-pick this week:
The blueberries are now closed for the season.  The late crop of red raspberries has mostly tailed off, but the blackberries are nice right now.  However, our blackberries are a thorny variety…we recommend using a glove to move the canes aside and picking with your other hand.
Fruits and Vegetables Coming Soon
Apples – Our Honeycrisp will start to trickle into the market soon (they're notorious for uneven ripening).  Larger quantities in maybe about a week or so.  We also will have Gala and Blondee within a few days.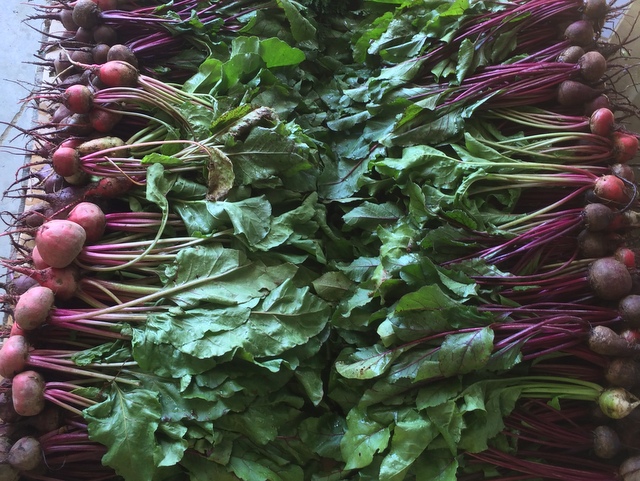 Save
Save
Save
Save
Save
Save
Save
Save
Save
Save
Save
Save
Save
Save
Save
Save
Save
Save
Save
Save
Save
Save
Save
Save